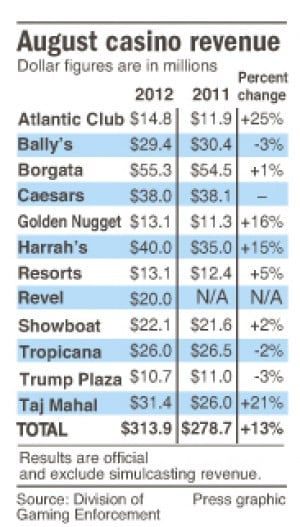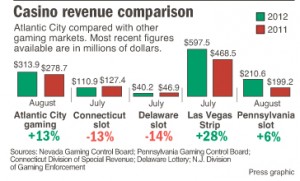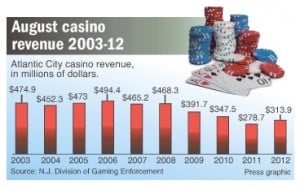 Posted: Tuesday, September 11, 2012      
By DONALD WITTKOWSKI, Press of Atlantic City
Hurricane-free weather in August and the newly opened Revel megaresort gave Atlantic City's struggling casino industry its first monthly revenue increase since December.
Altogether, the 12 casino hotels won $313.9 million from gamblers in August, a nearly 13 percent increase compared with last year, according to figures released Monday by the New Jersey Division of Gaming Enforcement. Slot revenue rose 17 percent, to $226.1 million, while table games winnings increased 3 percent, to $87.8 million.
Casinos, however, had an easy comparison to August 2011. Last year, Hurricane Irene, downgraded to a tropical storm by the time it lashed New Jersey on Aug. 28, forced the casinos to close during a prime summer weekend.
The three-day shutdown cost them an estimated $40 million to $45 million in gambling revenue, casino executives agreed. Casinos ended August 2011 with $278.7 million in revenue, so an extra $40 million would have given them $318.8 million, slightly more than August 2012.
August 2012 included revenue from Revel, the $2.4 billion luxury resort that was not open in August 2011. Revel took in $20 million from its slot machines and table games in August, a significant improvement from $17.5 million in July, but still keeping it only eighth among all casinos.
"I don't think one month is indicative of anything, but we're continuing to see some progress," Revel CEO Kevin DeSanctis said of the gambling revenue.
DeSanctis said Revel enjoyed stronger results in hotel occupancy, entertainment and food and beverage sales. Revel's hotel occupancy surged into the 90 percent range, compared to the 70s in July, he noted.
Unlike previous months, Revel did not release figures for nongambling revenue in August. DeSanctis said those figures will eventually be made public in Revel's filings with the federal Securities and Exchange Commission. Revel's attorneys are advising the company to be cautious about disclosing financial data prematurely, DeSanctis explained.
DeSanctis did say, however, that Revel had nearly the same number of visitors — 630,000 — in August compared with July. Although visitation was essentially flat, Revel's customers spent more money during their stays, DeSanctis said.
"I think we probably did a little bit better by having the right type of guests in our rooms," he said.
Since it opened April 2, Revel has marketed itself as a resort first and a casino second. Conventions and overnight guests are a primary part of Revel's business strategy, a departure from Atlantic City's traditionally heavy emphasis on daytripping gamblers.
Revel has already "taken a leadership position" in the Atlantic City market in attracting convention and leisure customers and with its entertainment lineup, DeSanctis maintained. He acknowledged Revel still has a ways to go with its gambling revenue.
"It's OK. It's clearly not where we want to be," he said, adding that Revel expects to continue to boost its gambling revenue in coming months.
As usual, Borgata Hotel Casino & Spa led the industry in gambling revenue, posting a win of $55.3 million in August, up 1 percent. In a surprise, the financially challenged Atlantic Club Casino Hotel was the month's biggest gainer, jumping 25 percent to $14.8 million.
Michael Frawley, Atlantic Club's chief operating officer, said the casino is starting to benefit from its rebranding as an affordable casino offering low-stakes betting and discount prices. The Atlantic Club, formerly known as the Atlantic City Hilton Casino Resort, remodeled its casino floor and overhauled its slot machines to add new penny games as part of its rebranding.
"We're very, very happy with the results," Frawley said. "Obviously, the (rebranding) resonates with customers. We've gotten a lot of positive feedback. We took great pains to reintroduce customers to the property. It seems to be working."
Other double-digit gainers in August included Trump Taj Mahal Casino Resort, up 21 percent, Golden Nugget Atlantic City, up 16 percent, and Harrah's Resort, up 15 percent.
Resorts Casino Hotel and Showboat Casino Hotel joined Borgata with single-digit increases.
Casinos suffering declines for the month included Bally's Atlantic City and Trump Plaza Hotel and Casino, both down 3 percent, and Tropicana Casino and Resort, off 2 percent. Gambling revenue at Caesars Atlantic City fell less than a percentage point.
Spectrum Gaming Group, a Linwood-based casino consulting firm, said in addition to hurricane-free weather, the casinos benefited from tourist-friendly public events in August. The city's annual airshow and a tightrope walk high above the beach by daredevil Nik Wallenda were big draws.
"Overall, there were 64 public events held at Atlantic City's casinos in August 2012, versus 33 comparable events in August 2011, an increase of 94 percent," Spectrum said in a statement.